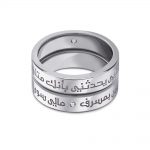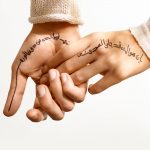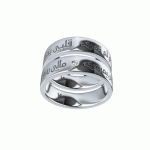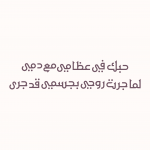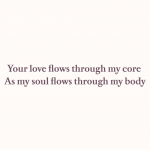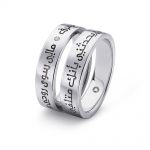 EBBARRA 925 Silver Love Ring – Antarah Ibn Shaddad
650.00 USD
Engraving on Ring : "Your love flows through my core As my soul flows through my body"
Be it the passion between Romeo & Juliet or the undying bond of Ablah & Antarah, love is a river that runs eternal. Featuring poetic gems from Arabic literature, this collection is a treasure trove of deeply passionate words dedicated to your 'One & Only'.
Technical Details:
• Metal: 925 sterling silver
• Palladium plating
• Width: 5.10 mm
• Diamonds:0.01 CT
• Do not engrave
• Fits true to size
• Product code: EECL-RD1D-S-E06
More About the Inscription:
Antarah Ibn Shaddad
Your love flows through my core As my soul flows through my body
Antarah Ibn Shaddad, a pre-Islamic era poet was known for his pride and strength. Contrary to his imposing character, he fell deeply in love with Ablah upon seeing her in one of his battles. He soon started writing poems about her, and this revealed his eloquence and creativity to the public. Ablah's love transformed Antarah's persona from that of a fearsome soldier to that of a gentle lover. He continued composing love poetry for her till the very end of his days. He wrote some of the most beautiful verses in Arabic love poetry for this beloved he could never have.
| | |
| --- | --- |
| Poet | Antara Bin Shaddad |
| Color of Silver | Sterling Silver |
| Stone Category | Diamond Inside |
| Stone Type | Diamonds |
| Silver Color | Silver |
Only logged in customers who have purchased this product may leave a review.